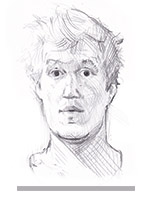 Petr Mucha was born in Brno Czech Republic on the first of December 1983.
In 2003 graduated on the art high school in Písek in the region of South Bohemia. Since than, he's been working on many different places as graphic designer and DTP operator in marketing departments of global companies as well as creative departments of prestigius advertising agencies or the Czech division of one of the biggest global producer of video games.
He now works as a freelance illustrator and CG Artist and studies the faculty of fine Arts in Brno, in the department of figurative sculpture led by professor Michal Gabriel.